You Are Not Alone: A Heartfelt Guide for Grief, Healing, and Hope by Debbie Augenthaler, published by Everystep Publications, May, 2018.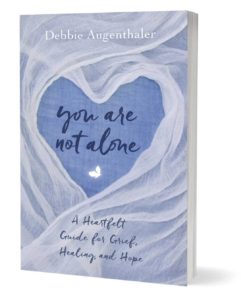 It's rare – in fact, this might have been the first time – that I tell people to buy a book before I've even finished reading it. But, halfway through, I couldn't wait any longer. My social media accounts were updated with encouragement to read You Are Not Alone. It's that good and that important. Having gone through my own challenges with grief when my Dad died, and knowing a couple people who are currently struggling, I knew this was a resource too good not to share right away.
When Debbie Augenthaler's husband of two and a half years died suddenly in her arms, her life was immediately divided into two parts; before and after Jim's death. In You Are Not Alone, she expertly takes us through her journey and offers guidance so that we might feel free to experience grief in our own way when that time comes.
The book is divided into four sections reflecting the stages the author went through after her husband died: Shattered, Grieving and Coping, Emerging and Transition, and Expanding Into The Mystery. Within the sections, the chapters are structured alike: the telling of what actually happened, a current day reflection on what happened, an interpretation with the benefit of her recent clinical training, and then a section with guidance "for you" who might be grieving now.
Debbie describes the book as the one she wishes she had when she was grieving. Yes, yes, yes! It is a terrific resource for the person who experienced loss as well as those who are trying to support someone going through it. Beyond her personal story, there is an appendix of tips for the griever and those who want to help. Be sure to read it.
The most important takeaway is the permission to grieve how we want to and for how long we need to. We don't need to be "over it" in six months. We don't need to sequentially follow the seven stages of grief. We don't have to forget the person we lost in order to experience happiness going forward. And, we certainly don't have to follow anyone else's idea of what grief and recovery should feel like or look like.
I'm actually at a loss on how best to describe this book, it's that powerful! All I can really say is if you are grieving, know someone who is grieving, want to prepare yourself for the experience to come, or are simply interested in a compelling story of loss, survival and renewed living, get this book today.
You can order You Are Not Alone directly on Amazon or through the author's website. Either way, be sure to explore Debbie's site for the other resources such as the Toolbox Series (simple techniques to help with anxiety and overwhelm), to register your book purchase and download Debbie's Healing Light Meditations, to read the blog or signup for a daily email inspiration.
But, first, buy this book!
Note: A copy of You Are Not Alone by Debbie Augenthaler was provided to me by the publisher at no cost. In no other way did any person attempt to influence the content of this review.