Paint Your Hair Blue: A Celebration of Life with Hope for Tomorrow in the Face of Pediatric Cancer, a memoir by Sue Matthews with her sister Andrea Cohane, Morgan James Publishing, 2018.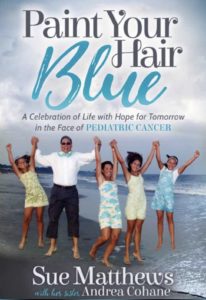 Fifteen years ago, Sue Matthews was living a perfectly happy life with her husband and three daughters. Then her middle daughter, eleven year old Taylor, was diagnosed with cancer. This inspirational book is their story.
Surprisingly, though the story is sad, there is also much joy woven throughout, celebrating life at every turn. With a child's outlook, Taylor is courageous throughout her treatment and innocently optimistic about her future. She faces her health challenges head on but does not allow them to interfere with the rest of life. Taylor enjoys her friends, goes to school, finds love, travels and enjoys a good prank now and then. She also gets frustrated, occasionally overrules her doctors and nurses, acts like a typical middle child and yearns to be normal. Her five year cancer battle is filled with ups and downs, twists and turns, joy and sorrow. The reader is gently invited along for the journey.
Taylor's story – and the Matthews family story – is well told by her Mom. While the topic of pediatric cancer could be a depressing one, their story is told in such a way that I always looked forward to getting back to it, just to see what happened next and how the family dealt with it. Throughout the book, Matthews also includes tips and resources for families who might find themselves in a similar circumstance; what questions should be asked upon diagnosis, treatments tips, medication tips and more. She honestly shares a parent's fears and worry while also setting an example of how to let a child be a child through the most difficult of circumstances.
How does a family deal with pediatric cancer? Let this book be a guide, an inspiration and a supportive friend.
One slight challenge in reading the book at first was the many nicknames given to Taylor. Start the book by knowing that Taylor, Tay, Tales, T and Little T are all the same person.
While an excellent resource for families or friends of a child fighting pediatric cancer, the audience for this book is much wider. Anyone seeking inspiration, the will to fight through challenging times, or a mother-daughter love story should add this book to their reading list. You can download a sample chapter here or order the book here on Amazon. Prepare to be profoundly impacted.
Note: A copy of this book was provided at no cost to me by the publisher. In no other way was the content of this review influenced by the publisher, authors, or anyone else.