Gracious Leadership, Lead Like You've Never Led Before, written by Janet Smith Meeks, published by Smart Business Books, January 2018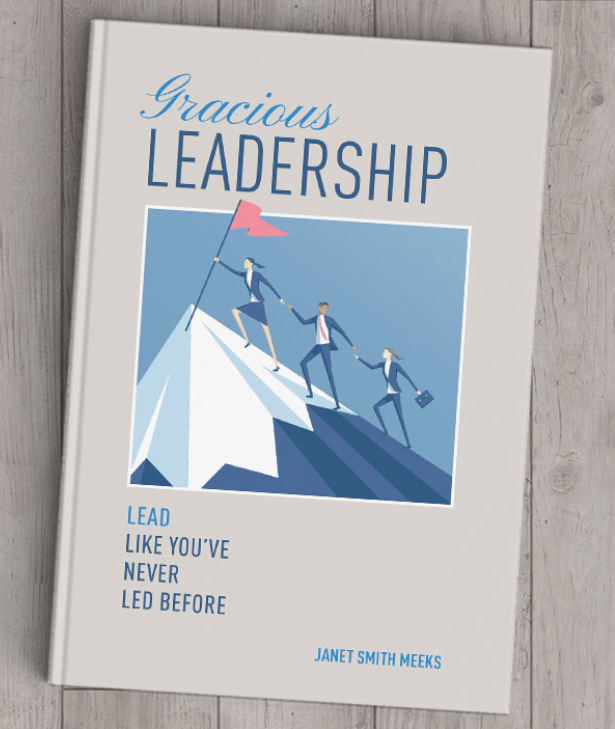 Several years ago, while a patient at Mount Carmel St. Ann's Hospital, I experienced firsthand the the result of Janet Smith Meeks' gracious leadership. I wrote a blog post about the interaction my husband and I had with the cleaning staff and it was picked up on Twitter by the communication team at the hospital. A representative asked for permission to share my post internally so the staff involved could be recognized for their patient-centered service and representing the mission of the hospital so well. Of course, I said yes! Unbeknownst to me at the time, Janet was president of the hospital. Fast forward a few years and I had the privilege of meeting Janet twice; once when she spoke about gracious leadership at a Ross Leadership Hour and another time when she and I were both speakers at the Central Ohio Women's Healthcare Financial Management Association Conference. I was enamored by her gracious presence, clear personal philosophy on leadership and her ability to communicate the impact of such leadership.
I share this to set the stage for how excited I was to not only learn that Janet was writing a book on the topic of gracious leadership, but that I would have the chance to read the manuscript and share my thoughts here on the blog. She and the book did not disappoint.
Gracious Leadership
Look up the word "gracious" and you will find synonyms such as courteous, civil, merciful, compassionate and kind. While those words might not be the first that come to mind when we think of our leaders today, don't they describe what we all really want in a leader? In her new book, Gracious Leadership, Janet Smith Meeks helps readers understand thirteen key ingredients necessary to lead graciously and to have a positive and lifelong impact on their people and organizations.
First, readers get to know the author as Janet not only shares the routine facts of her upbringing, education and early career but also a very personal and powerful story that illustrates the impact of another leader's gracious leadership on her life. This event helped Janet form her overall philosophy of the head-heart connection in leader behaviors. Employing terrific story-telling skills to illustrate her leadership principles, readers are all in by chapter four, when the thirteen ingredients instruction begins in earnest.
One of my favorite things about the book is the "conversation starters" at the end of each chapter. These are four to five questions that help you reflect a little deeper, engage your team in the learning, seek feedback on your leadership effectiveness, and prompt possible changes in your own thoughts and leadership behaviors. From relationships to accountability, from problem solving to feedback, from purpose to gratitude, each of the key ingredients build upon the concept of gracious leadership. The conversation starters take the words on the page and turn them into actions for personal and professional growth.
The book wraps up by addressing the thought that graciousness might be seen by some as fluff. By linking real business outcomes to her gracious leadership practice, Janet quickly demonstrates that it is not just soft stuff but has real strategic impact.
I can't encourage you enough to buy this book.
What better way for leaders to start the new year than by investing in their own development? Reading and reflecting on the thirteen key ingredients of gracious leadership will help you lead your team more effectively and be a positive impact on your organization as a whole. Read and study Gracious Leadership and you will "lead like you've never led before!"
Click here to order Gracious Leadership. There is also a limited opportunity to purchase a copy signed by the author.
Note: A copy of the manuscript was given to me at no cost by the author. In no other way did she attempt to influence this review.