On this Election Day in the U.S., I cannot ignore what is a historic day. A woman, Hillary Clinton, is the Democratic candidate for President. Like many of you, I will be closely following the news today, watching and waiting for that electoral map to be finalized. I am proud to say that #ImWithHer and I hope and pray that by day's end, she will officially be the next President of the United States of America.
However, the Tuesday Tidbit is supposed to be a post for emerging leaders, right? Let's make the best of both events. Below are some of my favorite Hillary Clinton quotes. They are not political in nature; they are truths for all of us.
Always aim high, work hard, and care deeply about what you believe in. And, when you stumble, keep faith. And, when you're knocked down, get right back up and never listen to anyone who says you can't or shouldn't go on.

.

The worst thing that can happen in a democracy – as well as in an individual's life – is to become cynical about the future and lose hope.

.

I challenge assumptions about women. I do make some people uncomfortable, which I'm well aware of, but that's just part of coming to grips with what I believe is still one of the most important pieces of unfinished business in human history — empowering women to be able to stand up for themselves.

.

We need to understand that there is no formula for how women should lead their lives. That is why we must respect the choices that each woman makes for herself and her family. Every woman deserves the chance to realize her God-given potential.
I would be remiss if I didn't add this: If you haven't already voted and you are reading this on November 8 before the polls close in your state, go now. Right now! Vote. Let your voice be heard. It matters.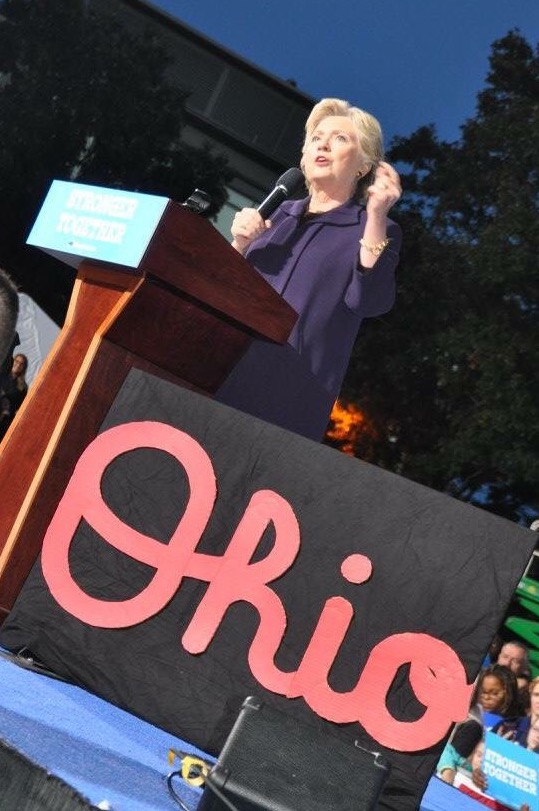 Photo taken during Hillary Clinton's October visit to the Ohio State University.