I am fortunate to live near a golf course; it's a great place to walk. Last week, I stopped along the cart path to take a few photos of the brush. I found it to be so beautiful, even though the plants were dying or even already dead. One of those photos is today's quote background. The cattails have burst open, the leaves are brown and dropping but there is so much texture and contrast and gracefulness.
I've heard comments that once the colorful leaves fall from the trees, autumn loses its beauty. It's over. I challenge that opinion. There is always something special to be found if we are open to see a different perspective.
Isn't the same in life? Some people think that by the time we reach the autumn of our lives – say, our late fifties into our early seventies – there isn't much to enjoy anymore. I've even heard people say that we're just waiting to die.
Wha-a-a-t?
I've just entered that age and I think it's a lovely time to be alive. There is the balanced perspective of wisdom with a renewed sense of gratitude. I sense a shift from tolerance to appreciation. My heart is more open while simultaneously willing to let go those who are not interested in the possibility of a peaceful and generous life.
And, those cattails? They aren't really dead. They are just going through the natural cycle of life. In the Spring, they will again grow, reaching for the sky, beautifying the golf course, giving everyone a fresh view to enjoy. Our lives are doing the same. Whatever we're experiencing right now is preparing us for the next phase of life.
Be fully present to the beauty in it.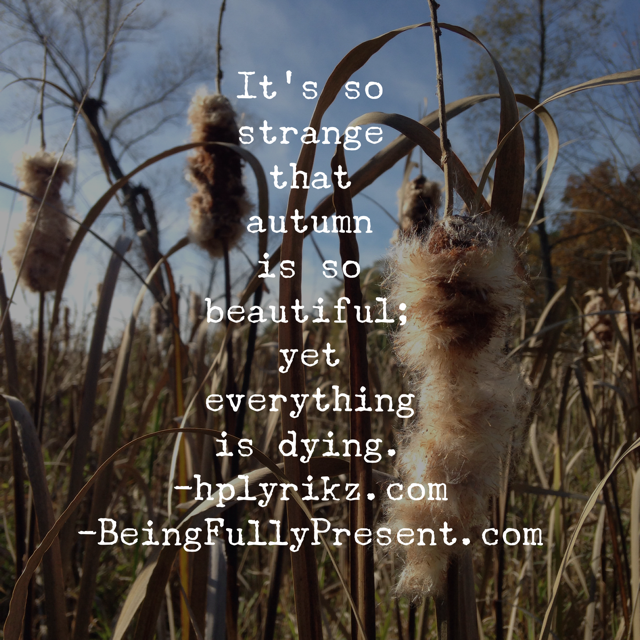 Photo taken at the Medallion Golf Course in central Ohio.