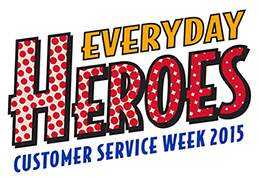 For about twelve years I had the privilege of leading a committed team of up to 300 customer service professionals. Celebrating them during customer service week – this first week of October – was always a fun, corporate-wide event, honoring both internal and external customer service. Of course, we tried to express gratitude and appreciation all year long, but during this week the company went above and beyond.
Why celebrate this week? As the CSWeek.com website reminds us, it is an opportunity to:
boost morale, motivation and teamwork.
reward frontline reps.
raise companywide awareness of the importance of customer service.
thank other departments for their support.
remind customers of your commitment to customer satisfaction.
If you don't have a plan yet to honor your customer service representatives, it's not too late! CSWeek.com is the official website of Customer Service Week and it has a lot of ideas, even some free resources that you can simply print and use immediately.
Extravagance is not needed. The most important thing is to be sincere in your appreciation. A simple thank you card with heartfelt handwritten words will do wonders. Consider bringing in donuts or bagels one day, or buying pizza for lunch. Fill dollar store candy jars and leave one on each desk with a note. Tie a "thank you" balloon to each chair. Give an extra half hour for lunch or let your team go home a little early (without sacrificing service, of course!).
Whether you lead a customer service team or not, don't forget the people who serve you. For example, the grocery store cashier, your paperboy or girl, your babysitter, the bus driver, maybe a landscaper or painter, and all the other people who deliver good customer service every day.
Just say "Thanks for your great service! I appreciate you." You will make their day.