One Word…creates clarity, power, passion and life-change. The simple power of One Word is that it impacts all six dimensions of your life – mental, physical, emotional, relational, spiritual, and financial. Simply put, One Word sticks. There is a word meant for you and when you find it, live it, and share it, your life will become more rewarding and exciting than ever. –getoneword.com
Last week, I was among the many who suffered through the holidays with a 36 hour intestinal bug. Spending Christmas and much of the next day in bed meant that I did not create a BFP Inspiration Moment for last Monday. I also did not publish a Tuesday Tidbit for the first time in the six years I've been sharing the TT here on the blog.
And, the world did not end.
Instead, the universe was conspiring to tell me that I don't have to do what I've always done, just because. Instead it is not only acceptable, but preferable, to focus a little more on living an authentic life, being true to myself and the person I want to be, the voice I want to have and the message I want to share, when I want to share it.
Here on the blog that means that, in 2017, I will not post a Tuesday Tidbit every Tuesday. I will, however, continue to post inspirations for emerging leaders when I come across something particularly interesting. My passion remains with the growth of these motivated professionals, but it will no longer happen on a forced schedule.
This also means that BFP Inspiration Moments might post on Saturday or Wednesday instead of every Monday. There might be more than one in a week or none. They will be driven by the experiences I have, the photos I take, the quotes I find and only when inspiration strikes.
I will still write the occasional Book Review, because books are important to me. I also hope to return to gratitude posts, similar to the old Thank You Thursday posts, because living in thankfulness is important to me. However, again, they will not auto publish every Thursday. They will be a result of spontaneous inspiration.
Back to Basics
Lastly, there will be more posts that peel back the ordinary to find the extraordinary within. When I was taking my Senior Year Experience writing class at Otterbein University a few years ago, the professor told me that I have an "important voice" that I need to share. Hmmm. That was overwhelming to hear! He implored me to continue writing, even after the class ended. It was his heartfelt encouragement that launched this blog. Sadly, over time, I've gotten away from that kind of creativity. It is my intention that 2017 will mark a return to sharing life experiences in that authentic style once again.
All of this means I am getting back to the original intention of this blog: Being Fully Present.
My #OneWord for 2017: Authenticity
When I think of authenticity, it has a twofold meaning: being true to myself and genuine in all things. This year, I won't write on some predetermined topic on a forced schedule. Instead, when inspiration strikes you'll find me at the keyboard. And, hopefully, when I hit publish, you'll be inspired, too.
Thanks for being on this journey with me. If you haven't already, consider subscribing so new posts are delivered right to your inbox. I hope you'll share your thoughts in the comments because you also inspire me.
In the meantime, happy new year! Do you have a #OneWord?
.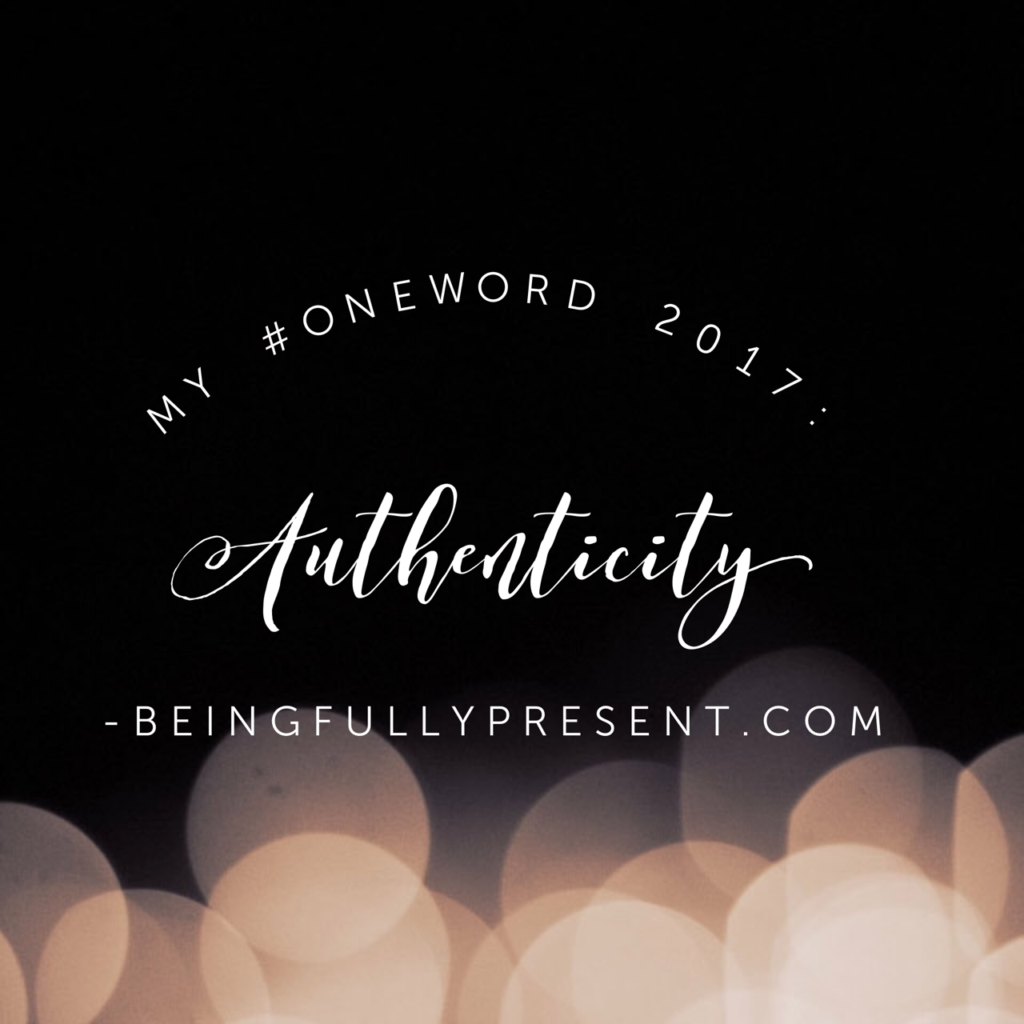 Interested in reading more about the #OneWord concept? Follow this link to the website and explore the many resources. This is my fourth year of having #OneWord to focus on instead of a list of resolutions. It works well for me.